Posted by Stefano in Featured Articles, Travel Tips
Aug 27th, 2009 | no responses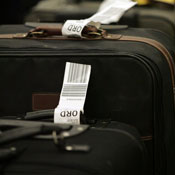 Beware of the second-bag fee. Continental Airlines has communicated that some coach passengers will be charged on international flights $50 should they decide to check a second bag. Several other carriers, like American Airlines, Delta Air Lines and US Airways are also doing the same.
The new fee will concern passengers flying between Europe and the United States, including U.S. territories such as Puerto Rico and the U.S. Virgin Islands. Although the first bag checked stays free of charge, the second-bag fee will be applied to tickets purchased on or after Thursday August 27 for flights due on or after September 15.
Continental will not apply this fee to upper-tier members of its frequent-flier program including those seated in First or Business class, customers with full-fare economy tickets, holders of its Presidential Plus credit cards or military personnel and their families traveling on official duties.
Patrons who check in and pay for bags on its Web site will receive a $5 discount.