Posted by Stefano in Featured Articles, Travel Tips, Travel Tips Barcelona
Jan 20th, 2010 | 2 responses
Courtesy of Grand Hotel Central in Barcelona, here are some tips on where to go in this wonderful city:
VISIT: Barcelona Walks Gòtic
Barcelona's Gothic Quarter links past and present. Discover in a guided tour the charm of its streets, squares, hidden corners and hundred-year-old buildings with expert guides who will take you, step by step, on a journey through history.
Departure point: Turisme de Barcelona information office at: Pl. de Catalunya, 17 basements. You should be at the information office 10 minutes before the visit of the Gothic Quarter begins. It takes 2 hours long and you could start every day. It takes 2 hours long. Times: In English: Monday to Sunday at 10 am. In Catalan/Spanish: Saturdays at 12 pm.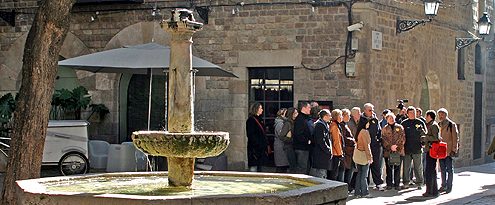 http://www.barcelonaturisme.com/
DISCOVER: Collserola Park
The Collserola range offers visitors the chance to feel as if they were in the middle of a forest. The park is spread out over close to 8,000 hectares, releasing 60,000 metric tons of oxygen every year and eliminating 80,000 of carbon dioxide. It contains some 10 million trees, 1,000 different species of plants and close to 190 species of vertebrates.
The park has eleven important scenic viewpoints, such as those on Carretera de l'Arrabassada, Torre Baró, la Font Groga and el Puig de la Guàrdia, all offering different views of the park. You can reach Tibidabo by public transport, either by bus or local train, the Ferrocarrils de la Generalitat and then the Tramvia Blau to Peu del Funicular, or from one of the park's many footpaths. At the top of the hill there are a few restaurants and the Tibidabo Amusement Park.
http://www.bcn.es/turisme/english/turisme/welcome.htm
ENJOY: Sightjogging in Barcelona
Whatever for people on work or vacation – Sightjogging in Barcelona is a unique way to experience the city. We run at the place suited for you and your group. You can choose from eight different routes. Barcelona is trendy. But only in the early morning you will escape the big heat, especially in the summertime and the big crush of tourists in the streets. Therefore our advice: Discover the awaking city between 6 and 10 am. If you want to be picked up use the pick up service.
All you need are your running shoes and comfortable running attire.
http://www.sightjogging-barcelona.com/
CUISINE IS PASSION…
A special day means a special dinner here at Ávalon restaurant. Our recognised chef, Ramon Freixa has created a Valentine's Menu, the most romantic dinner with candles, selected wine and the best company. Celebrate with us this unique day in a different way!
Book your table now! [email protected]